Click here to view results (Dressage results to follow)
Exhibitors again had a great time and better than usual weather at the Fall show in November. While numbers were down slightly, the addition of hunters over fences in the Sporthorse division kept our club in the black, as well as the usual good participation by Futurity exhibitors.
New this year was a Progressive Barn Party with several trainers and barns providing the food and fun following halter classes on Friday. Special thanks to Jack Curlee (Mountain View Arabians); Jane Garrison (Twin Creek Farm); Ted Carson (Butler Farms); Jamieson EquiCenter; and Bonnie Iversen, who coordinated many of the pre-party preparations.
The November show is the venue for Futurity classes in which weanlings and yearlings show and receive paybacks funded by the highly successful Stallion Auction sponsored by the Western Carolinas club. For more detailed information on the Futurity program and Auction, click here.

Catherine Ginn rides Almost Crimson to a Reserve Championship in the Modified Hunter division at the 2011 WCAHA show at Clemson. She won a second Equitation medal and was also High Score Training Level today with a 70% showing under Brigette Simmonds. Photo by Liz Crawley.

Alicia Mansuetti at the helm with her Patrolon daughter, Patralana. "Alana" earned Reserve Champion Sport Horse in Hand. Photo by Greg Quarles.

Winners at this Fall's Futurity classes shared in more than $25,000 in paybacks in eight classes through fifth place.
Lots of happy owners! Photo by Mike Mullins.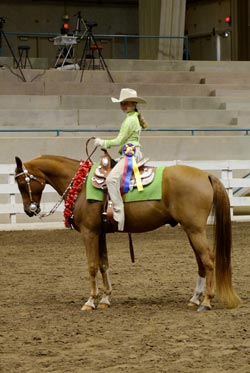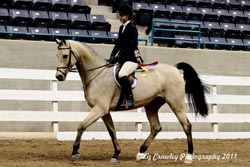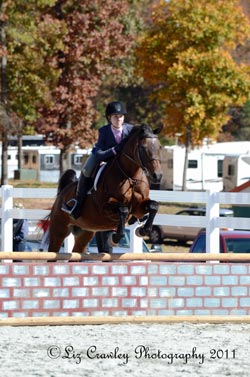 ---