Congratulations to Kelli and Bob Bennett, Jr., at Three Oaks Arabians, on their
fantastic results at this year's Region 12 Championships!

Final total: 7 Championships, 2 Reserve Championships, 16 total Top 5's
---
USEF honors Boswell and her stallion, Shugak
Many members will remember Janice Boswell, who for years was a member of our Western Carolinas club, and her stallion Shugak. Still gracing the Boswells barn at Jazzaron Arabians (and Afghans) in Georgia, Shugak celebrated his 36th birthday April 21st. In January of this year, his owners celebrated another recognition for him—the United States Equestrian Federation's Leading Sire of the year in 2012, in its Performance Horse Registry. Janice was named Leading Breeder for 2012 by USEF as well, as a result of his abilities as a sire.
Shugak, a son of Lea Baron (Azraff ) x SRF Lauramaar, a Raffles great-granddaughter, earned the same honor for the Boswells in 2004, on the basis of several of his get whose accomplishments were tracked by USEF. According to AHA's DataSource, Shugak has sired 61 offspring, 34 of which are half-Arabians. In 2012, these included two half-Arabian geldings—Have Another and Have Enough—bred by Laura Gordon, from Aiken, SC. These two geldings have racked up tons of AHA points in both dressage classes and in-hand and under saddle Sport Horse classes, and their accomplishments earned Shugak his award.
But these are just the facts. The back story on Boswell's second round of recognition for Shugak by USEF is especially interesting.
Janice has had some very big health issues in recent years, and has had to curtail her activities in both horse showing and her other avocation, breeding and showing Afghan dogs. When she was contacted by USEF and invited to Lexington to receive the honors and trophies for Shugak and herself, she felt that the cost and strain on her to drive there would be prohibitive.
The interesting part? During an email conversation with Veronika Harris, from Australia, who was part of an Internet group of Afghan dog enthusiasts that included Boswell, Janice expressed her disappointment at not being able to attend the event. The Internet friend decided to act. Harris had "met" Boswell on the Internet when she purchased several snoods from Janice for her Afghans. (Snoods are used to hold the ears back so they do not get into the dogs' food and water.)
Several days later, Janice received a plane ticket and confirmed reservations at the Galt House Hotel in Lexington, Kentucky, and Janice was able to attend the event after all, due to her friend's generosity.
"I really miss showing and the company of all my horse show friends," says Janice. "I would give anything to be back in the ring again… it would mean the world to me!" Following the successes of Shugak's get in the show arena over the years has helped a lot, Boswell says.
| | |
| --- | --- |
| | Janice Boswell accepts a trophy awarded at USEF's annual meeting honoring Shugak as 2012's leading Performance Sire. |
| | Shugak, with Janice up, during a show hack class at the US Nationals in 1992. |
---
One Day at Biltmore...or Who Knew Endurance Could Be So Much Fun?
One of the commitments that Western Carolinas Arabian Horse Association club has made over the past several years is to provide a water and refreshment stop during annual Endurance rides held at Biltmore Estate in Asheville, NC. It is staffed by WCAHA volunteers, and I was fortunate to be one of those this year. From September 28-30, Biltmore and its gorgeous setting was the designated location for the 50 and 100-mile National Championships for the Arabian Horse Association as a part of an AERC sponsored National Championship ride.
I assisted Sarah Hendricks, WCAHA's past president, on Thursday at a site approximately 40 riding minutes from the start, where a large water tank had been placed to accommodate the 100-mile horses at the 42 and 75-mile mark. We had our hands full of water bottles and energy bars for the riders and carrots for the horses as participants trotted up the hill in 2s and 3s to take a few moments to rest and chit-chat.
The day was absolutely gorgeous, belying slick and muddy trails in places due to the four inches of rain the site received on Tuesday that also complicated parking for participants and spectators. The skies were impossibly blue with occasional clouds that built as the day went on. I noticed several things as a complete novice to endurance racing: apparently just "being there" is incredibly invigorating for the riders, as smiles abounded, and even the horses looked eager and ready to roll. (There was a lot of carrot-crunching, and water splashing going on as horses' rinsed their mouths out, but most memorable was the obvious "relish-the-moment" or should I say "relish the HOURS" among friends with horses.)
Anyway, I brought my camera along and captured a few pictures as the first few groups traversed the hill to the water tank. After that, I was too busy pouring water in cups or breaking up carrots!
WCAHA members did well in all events. Lynn Kenelly rode her pinto half-Arab mare, Basha Bada Bing, to a second-place finish in the AHA ½ Arabian class for the 100-mile event and fourth overall with a ride time of 11:22:02, and members Nancy Sluys (FYF InZane+) finished fourth in the AHA ½ Arabian division and nineteenth overall with a ride time of 15:29:02, and Margaret Clare Summers (Mardi Gras Tuesday) unfortunately was pulled for lameness earlier in the day.
In the 50-mile, Margaret Clare Summers on LR Georgie Girl racked up a fourth place finish in the AHA purebreds and sixteenth overall with a ride time of 5:27:03, and Terry Wyatt riding Emmanuel Battyr was on the leader board but was pulled for lameness at the finish.
There were a total of 96 starters in the 50-mile with a winning time of 4:08. In the 100-mile, there were 48 starters, with the fastest time of 10:59. There was a race for first in both distances.
| | |
| --- | --- |
| Nicki Meuten (riding the grey) and Amy Whelan (on the bay) approach the water and refreshment stop sponsored by WCAHA. | Suzanne Solis (left) on her PB gelding Khorvet, is followed by her friend Cindy on another of Solis' geldings. Khorvet is by TC Kharpe Diem, owned by WCAHA members, the Iversens. |
It's obvious Becky Bunnell is having a good time, and she
had a really good time in the 100-mile--12:37:00 to place
third aboard her purebred gelding BR Jubaleigh.

Lynn Kenelly and pinto half-Arab mare Basha Bada Bing, on their way to a second-place finish in the AHA 1/2 Arabian class for the 100-mile event and fourth overall with a ride time of 11:22:02.
Photo Credit : Becky Pearman
---
Three Oaks Arabians Highly Successful at SHN
Five horses from Three Oaks Arabians in Swansea, SC, brought home the hardware from Sport Horse Nationals last September. They snagged a total two National Championships, four Reserve Championships and 11 Top Tens for owners Bob and Kelli Bennett.
Rohara Marserati was Champion Sport Horse In Hand Open gelding with Bob at the helm and Champion ATH gelding with Kelli. MSU Starta Legacy and Bob were Reserve Champion SHIH Open gelding, and with Kelli was Champion SHIH ATH gelding, and Top 10 in Training Level Dressage and Sport Horse Under saddle. In the half-Arabian category, a well-known gelding to exhibitors in Region 12, Quick Draw McGraw, was Reserve Champion SHIH gelding with Bob.
Appropriately named, MSU Start Again, was named Reserve Champion SHIH yearling colt/gelding, with Bob on the lead.
Also bringing home Top 10 honors at Sport Horse Nationals was TOA Justa Jewel in Arabian Mares SHIH Open. TOA Justa Jewel is owned, bred, and shown by Bob.
Western Carolinas club is certainly proud of the successes the Bennett's have attained in the sport horse arena and extend congratulations! Their training facility specializes in halter and sport horse disciplines.
| | | |
| --- | --- | --- |
| Reserve Champion SHIH Open gelding with Bob, and Champion SHIH ATH gelding and Top 10 in Training Level Dressage and Sport Horse Under saddle with Kelli. | Reserve Champion SHIH half-Arabian gelding with Bob. | Reserve Champion SHIH yearling colt/gelding, with Bob. |
---
Whitehaven Plantation Welcomes *GR Maatin for the 2012 Breeding Season
Whitehaven Plantation in Bishopville, SC, is excited to announce the arrival of the black straight Egyptian Arabian stallion *GR Maatin (Maheeb x GR Marietta). Patrea Pabst of Beaver Creek Egyptian Arabians in Dewey Rose, GA, imported Maatin from Germany. An outstanding young stallion bred by the Rothenberg Stud of Germany, *GR Maatin is already making a name for himself in a very limited show career. Egyptian Event Top 10 Colt as a yearling, Region 12 Top 5 Sport Horse Stallion at three, and champion Class "A" Sport Horse Stallion every time shown. In addition to his size and stature, Maatin has an exceptional personality that he passes on to his offspring. He will be standing at stud at Whitehaven while he begins his training in dressage and sport horse under saddle. Offspring of Maatin are eligible to compete at the Egyptian Event and win prize money through the Sport Horse Nationals payback program. He will be showing extensively throughout the east coast this spring and summer, but you can make an appointment to come meet Maatin in person by contacting Trisha Dingle at 803-428-5656 or whitehavenarabians@hotmail.com. Maatin can also be seen at our clinic with Marius Schreiner – on Sunday January 29th Beaver Creek Egyptian Arabians will be hosting a German Coffee & Chocolates party during Maatin's ride with Marius. Please visit our website at www.whitehavenplantation.com for additional details. Maatin joins a great lineup of stallions standing at Whitehaven: Ali Mutazz, Egyptian Event Champion; WH Bodacious, AHA Equine Ambassador; WH Marengo, Region 12 Champion Sport Horse Futurity Stallion; and WH The Aga Khan, National Champion Sport Horse Colt.
Don't miss this opportunity to breed to one of the most exciting and talented stallions of 2012. Select offspring are also available for purchase.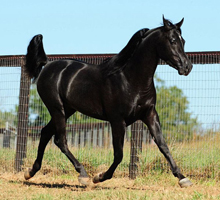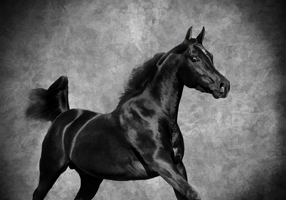 ---
IN MEMORY AND RECOGNITION OF TWO SPECIAL MARES
submitted by Pam Burrows
August 1, 2011, Corys Comet crossed the Rainbow Bridge and joined her longtime friend, Ultimate Choice, who had gone ahead on April 1, 2008. At the WCAHA November 2011 Arabian Horse show, all five weanling futurity fillies and 10 of the 29 total futurity entries were descendents of these two mares through their daughters and sons bred by Pam Burrows of Spartanburg, SC.
Twenty-three years ago Pam bought her first horse -- the Arabian mare Corlyn-- by the pure-Polish imported stallion Corsair. Corlyn was already a grand-matron with nine foals by such greats as Cal-O-Bask and Wisdom. Corlyn continued to produce strong-moving foals with the first foal Pam bred being the only filly - a big, strong-moving, great-minded chestnut mare by BPL Agression, a halter and western pleasure winning Cal-O-Bask son. This filly was named Corys Comet in recognition of three crosses to the great Polish stallion Comet. Pam later added the very special pure-Polish mare Ultimate Choice to her breeding program. To date, these two mares have blessed Pam by producing a Southeast regional AERC champion (Comets Nugget), multiple endurance winners (Comets Catalina, Comets Cupid, and Comets Calypso), a National and Regional Champion Sport Horse in hand and under saddle (SHF Hale Bop+++/), and a National and Regional winning halter mare (SHF Souths Choice+). Prior to being purchased by Pam, Ultimate Choice had produced a daughter, PA Ultimate Charm by Cognac, that produced two National winning sons for Dolorosa Arabians; DA Josiah (now owned by Pam) and DA Ultimatum+.
Comets Calypso, a paternal grandson of Corys Comet, and the last son of Ultimate Choice, as well as daughters and grandaughters of these two special mares are continuing the legacy begun 23 years ago. Thank-you to all the owners and trainers that have been and continue to be a part of this journey. May the future be bright for the progeny of Ultimate Choice and Corys Comet!
| | | |
| --- | --- | --- |
| Corys Comet at 16 years of age with her 2006 filly, Comets Showgirl. Corys Comet and Ultimate Choice, a Well Chosen daughter, started Pam's journey. | Comets Calypso, by SHF Whizlin Comet and out of Ultimate Choice, is the planned result of Pam's breeding program. | Through judicious use of Polish, Crabbet and domestic bloodlines, Pam is creating athletes with ground-covering strides and heart such as Comets Calypso. Calypso ran his first endurance race in November 2010, finishing third, and shares sire duties with the Ultimate Choice son, DA Josiah, a Bey Shah son. |
---
October Newsletter, Submitted by Carol Johnson
The Fall Show at Clemson is fast approaching and hopefully you receive this in time to make plans to attend, with or without a horse. (Post-entries except for Futurity entries—which must be made by the October 13th deadline—will still be accepted up to show-date, but after Oct. 17, show management requests you just bring the entry form with you to the show.
And if your equine "date" backs out on you, come join the crowd anyway, as plans are being made to have a frightenly good time at the Exhibitor's Party Friday evening, and throughout the remainder of the show.
Of course, the show includes a full day of Sport Horse activities on Friday, Dressage on Saturday morning and all the usual classes for amateurs and professionals alike in the main ring Saturday and Sunday. The main-ring judge this year is Judith Warner, and the Sport Horse judge is Jodi Jones Lee.
Showcased on Friday evening are the weanling and yearling Futurity entries, as well as main ring halter classes. Sixty-six youngsters were nominated late last year, and there are some fantastic sires and dams for these babies. Amateur handlers will vie for an ever increasing payout this year, thanks to a very successful All-Star Stallion Futurity Auction conducted this past Spring.
One quick note: Emily Cosgrove contacted me on behalf of her mother Betsy and sister Carrie, with their wins at Regionals and Youth Nationals. They are as follows:
Betsy was Top 5 at Region 14 in purebred Country Pleasure, 40 and over, riding Heywired.
Carrie was double unanimous Champion at Region 14 on DA Mi Matosk in Walk/Trot, 10 and under, and in Equitation, 10 and under.
At Youth Nationals, Carrie was Top 10 UPHA Walk/Trot 10 and under, Top 10 purebred Country Pleasure Walk/Trot, 10 and under, and Reserve Champion Equitation Walk/Trot, 10 and under.
Congratulations, Cosgroves! You've had a great summer.
And finally, plan to attend the membership dinner at five Saturday afternoon at the show. The WCAHA Board will put forth the slate of officers for 2009, and take nominations from the floor. Your input and desires are needed and welcome. And you can become a member "on the spot" if you haven't, as yet.
This club is progressive and welcoming, and its members work hard to make it fun for you. We'd love to see you at Clemson!
Lastly, don't miss the new feature article on the Hicks family and their many successes. You'll find it under the newsletter/features tab.
---
Whitehaven Plantation welcomes Amy Cocke to our teaching staff. Amy has been riding for approximately ten years, with experience in hunt seat, western, and dressage. She has also completed many courses in equine science and business throughout her college career. Though she has been involved with mostly Quarter Horses, Paints, and Thoroughbreds, she is fond of the Arabians and Half-Arabians she has worked with, and is looking forward to working with the talented horses available at Whitehaven. Amy will be concentrating on beginner riders through basic jumping and dressage, and hopes to develop a show team to take to local shows.
In addition, Amy will be working with resident trainer Trisha Blackwell on starting several new programs to build the school. The programs under consideration include working with the local recreation department and offering packages to college students for physical education credit.
Amy believes in developing the basics, especially that of a strong, supple position, no matter the discipline. She accomplishes this through flatwork exercises and work on the lunge line. More importantly, she wants to instill in her riders true horsemanship by teaching them proper horse care, kind treatment of the horse, and the balance of correct training with showing.
Amy is currently a senior at the University of South Carolina; she hopes to be able to build up Whitehaven's lesson program this fall, and start teaching full time after graduation in December. To schedule lessons with Amy, please contact her directly at COCKE@mailbox.sc.edu or cockeamy@aol.com or call her at 803-420-0895.
---

Baywood Farm… "It's great when a business provides so much pleasure!"
The Hicks family in Williamston, SC, is enjoying a very satisfying level of success with their purebred and half Arabians, both in the show ring and in the breeding shed. Diane Hicks, her husband, Ken, and their daughter, Loren, have owned Arabians for the past 16 years, are having a great time while they're at it.

Latoiya BF (Matoi x Movie Maker), with Vicki Humphrey.
2007 Reserve National Champion H/A English Futurity,
and one of Baywood Farms' "home-grown" products.
"We started our farm with two bay mares, and that provided the 'inspiration' for our farm name--Baywood Farms LLC," Diane says. "We've had approximately 50 Arabians and half-Arabians over the years, by way of foals, mares, show horses, and various pasture ornaments."
They got their feet wet like so many of us, by taking their first Arabian to a horse show. That horse was a Khemosabi granddaughter with a huge heart. Diane laughs as she describes the show.
"We took her to Asheville and entered every conceivable class from halter to open hunter," she explains. "We were so new at it and didn't know that those classes were mostly for trainers. That mare tried to do everything we asked of her, but she was not meant to be a show horse!"
The Hicks' second show horse provided the necessary progression for Loren in the show ring. Purchased from a friend for a dollar, Ibn Ibn Dorsaz+ was a seasoned show horse that had shown English in his day, but was a bit outdated.

Revelation JF+// (Defiancce x A Time To Dream), with Loren Hicks.
2007 US National Champion, a.k.a., "Kramer," in HA English Pleasure AOTR 18-39.
"Ibn loved to go to shows, and he and Loren worked hard and rode in many classes," Hicks says. "They didn't place very often, but he was a feisty but valuable teacher."
Loren learned her lessons well. In 2007, she and her current show horse, Revelation JF+//, a.k.a. "Kramer," have enjoyed tremendous success. Kramer has accumulated over 20 National titles with both Loren and Vicki (Humphrey). Thus far in 2008, he has won both the open and AAOTR classes at Scottsdale and was Canadian National Champion H/A English AAOTR 18-39 with Loren, and Reserve Champion Open, with Vicki. Now, on to Tulsa…
Kramer was purchased as a young four-year-old and had never been off the farm where he was born. He had never worn a full bridle, and had never been to a show.
"We had a feeling that he was special," Diane says, "but little did we know that we had found ourselves 'a once in a lifetime' horse!"
"This is a magical combination," Hicks continues. "A horse with natural talent and a great mind, a gifted trainer (Vicki Humphrey) with immeasurable talent and wisdom, and a very talented young rider with focused determination. They have been together since 2000, and are still a joy to watch!"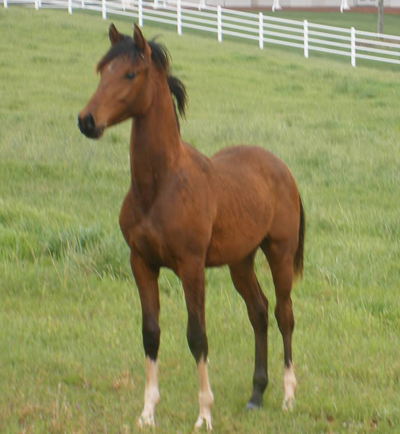 Baske a Million (Baske Afire x Holly Berri by Bravado Bey V)
This yearling gelding is a good example of the quality of youngsters being raised at Baywood Farms LLC.
The Hicks' breeding program is enjoying success as well. Over the years, they've bred a number of foals, and currently are getting a few home-bred youngsters trained for the show ring. One example is a purebred western futurity prospect by Amazing Fame V and out of the Hicks' Ariston grand-daughter.
"That's quite a change for our saddleseat minds," Diane jokes.
Recently, they have intensified their breeding program through the use of embryo transfer. Using their well-proven 20-year-old Saddlebred mare, Movie Maker, the Hicks have successfully foaled out two Mamage fillies, and are expecting two Specs Shocwave and one Hucks Connection V foals in the spring—all created through the flushing of Movie Maker embryos and the implantation in recipient mares.
"Movie Maker has had seven of her foals ridden in performance, resulting in three National Champions, one Reserve National Champion and one Top Ten," Hicks says.
Diane and Loren have been WCAHA members as long as the family has owned Arabians, and appreciate the club's efforts in trying to offer something for everyone, from class A shows to family affairs with trail rides and other opportunities. Diane says that being involved with Arabians has enriched the entire family.
"We've made so many friends throughout the industry and the country. It's been very satisfying to watch our daughter accomplish so much, and it's very rewarding to breed foals that go on to become loving companions or successful show horses for other families."
Several trainers and others have been invaluable to the Hicks family over time.

Annie, at one week old
There's nothing cuter that a baby burro, and this is one of three
burros now in residence at the Hicks' new farm in Pendleton, SC.
"Vicki Humphrey has been the 'guiding force' for the last nine years," says Hicks. "Her many skills, insight, and advice have been the very best that a trainer could bring to the table. We, as owners, amateurs, breeders and friends depend upon that."
Hicks also names Tish Kondas and Jane Garrison, both of whom have advised and trained successfully for her family through the years.
"And it was Faith Connelly and her daughter, Debby, who gave Loren her first riding lessons on school horses and provided the early show ring experience that began this whole process," adds Hicks.
"All this time, we've boarded our horses until we began breeding," Hicks says in closing. "We then leased a barn with pastures to keep our growing herd. In less than three weeks, we will move to Pendleton, SC, to our own farm. We will finally all live on the same property – two humans, two dogs, two cats, 21 horses and three burros! Come by and visit us anytime!"
It doesn't sound like the Hicks are planning to downsize anytime soon.
---
Open Barn and Halter Scorecard Clinic
at Dr. Ed Davidson's Southern Heritage Farm
More than 80 people attended a gathering at WCAHA member Ed Davidson's farm near Spartanburg June 1st to see his lovely collection of horses, and to learn more about the new halter scorecard that has been implemented at AHA horse shows since April 1st.
National level judge and club member Grace Greenlee conducted the seminar, using materials obtained from AHA, and attendees were encouraged to do their own scoring on the handouts, as Greenlee adjudicated a "mock class" using three of Davidson's two-year-old fillies.
Prior to the class itself, Greenlee gave a talk highlighting the reasons for the scorecard's implementation and provided a quick overview of how the scorecard is used by judges. She discussed major and minor faults and how an individual horse should be scored based on its conformation.
Comments from attendees were extremely positive and reflected the general consensus that it was refreshing to be able to have something "concrete" to understand what the judge was seeing.
The afternoon was very warm, but Davidson's farm has sheltering shade trees, and tables were set up beneath them to accommodate the food for a terrific lunch.
The Western Carolinas club has received several requests from members to return to endeavors such as this which provide an opportunity to get to know each other's programs and pursuits, and learn more about the Arabian horse in the process.
WCAHA is working on two other farm visits for later in the year. Stay tuned! And please email Ed and Grace to thank them for their huge contributions in time, talents, and beautiful horseflesh!

SHF Miss Scarlet, Ed Davidson's Region 15 Breeders' Sweepstakes Champion Filly, was one of the horses judged in the "mock class" to illustrate the use of the new halter scorecard now in place at the Class A, Regional and National levels.

Three mare and foal sets were set free in Davidson's pasture to run and play.
Shown are two of the babies with one of the mares.

Ed Davidson hosted a great party for more than 80 WCAHA members and friends at his facility, Southern Heritage Farm.

Even the decorative horse was decked out for the afternoon. Attendees enjoyed a fantastic meal complete with several kinds of homemade ice cream and locally grown strawberries.

Grace Greenlee conducted an informative session on the recently implemented Halter Score Card prior to judging a "mock class" consisting of three of Davidson's two-year-old fillies.

Another view during the Halter Scorecard Seminar conducted by WCAHA member and AHA judge, Grace Greenlee.

Davidson can be seen in the middle of the group that attended his Open Barn.

Ed's helpers release the mares and babies for a little pasture fun.
---
August 2008 Newsletter
Submitted by Carol Johnson
Just a few quick housekeeping notes:
Judges have been selected for Western Carolinas' Fall Class A show at Clemson. They are: Judith Warner, Main Ring Judge, and Jodi Jones Lee, Sport Horse Judge. Show dates are Oct. 31, Nov. 1-2. 2008. And don't forget that the club holds all the Futurity classes at this show. Come see the "results" of all those breeding decisions made in 2007!
If you'd like to take care of room reservations, remember that the Comfort Inn is our host accommodation, and has guaranteed rooms at a very attractive rate, regardless of whether or not there is a home game on our show weekend. Show your support of their commitment, and get one more of your "to-dos' done ahead of time! Their telephone number is 864-653-3600. Mention the Western Carolinas Arabian horse show when you call to receive the special rate.
I knew Connie Ross had some good news to relay, but we never touched base before the deadline had passed for submission. Here are her results from Region 12. Congratulations, Connie!

Connie Ross and Rohara Eurofire
Connie and her longtime show horse, Rohara Eurofire, had another great Regionals. They were:
Reserve Champion, AAOTR 40 & over Hunter Pleasure with Connie
Champion Purebred Sport Horse Show Hack with trainer Katie Showers
Champion Sport Horse Gelding-In-Hand Open with Katie
Champion Sport Horse Gelding-In-Hand ATH with Connie
---
June 2008 Newsletter
Submitted by Carol Johnson
It's all over but the shouting, and judging by all the emails I've received, there was plenty of that at this year's Region 12 Championships. Take a look elsewhere in this edition for a page with Western Carolinas' members' results. What a successful and talented group we have among us! And obviously, by extension, some wonderful horses. (And I can still take results; I'll be putting them up on the internet, too, so fire away: johnsonfrederick@bellsouth.net.)
Writing in the middle of May, I'm assuming most of your foals have arrived, and you've broken out the fly masks and sprays. No doubt, you're anticipating another great summer of fun and activities while enjoying your Arabian horses.
Be sure to check out the photo page in this issue to see how a couple of our club members are enjoying theirs. And email me to tell me about your adventures as well. I'd like to hear about your "oldies, but goodies" (with PICTURES if possible), and all stories about how you and your Arabians are interacting.
The Western Carolinas Arabian Horse Association and its Board of Directors have suffered the loss of one of its founding members, Marilyn L. Allor.
Allor, 82, a resident of Fletcher, NC, died May 10. She and her husband, Albert L. Allor, who preceded her in death, were longtime WCAHA members, and Marilyn sat on the WCAHA board of directors for many years.

Several current board officers recall Allor fondly, and have shared memories of good times passed in her presence. As her obituary read, "(Allor) will be sadly missed by her friends, family and those whose lives she touched."

WCAHA members who may wish to make a memorial contribution may do so by contacting Immaculata Catholic School, 208 7th Ave West, Hendersonville, NC 28792.
Condolences go out to WCAHA member, Connie Ross, Rutherfordton, NC, on the loss of her father, Charles David Ross, 87, of Greenville, SC. Mr. Ross died May 10, 2008 in Greenville.

Mr. Ross was a WWII veteran, retired from J.P. Stevens' Monaghan Plant as a Plant Engineer, and husband of 62 years to Cecil Speights Ross.
---
April 2008 Newsletter
Western Carolinas Spring Show…
In a manner of speaking, all those of us who were in attendance at Western Carolinas' Class A show in early March certainly earned a pile of Endurance miles! We endured extremes in weather rarely seen in Upstate South Carolina.

The weatherman had predicted lows near 30 and highs in the 40s for the weekend, with windy conditions, but he forgot to say "gale force." And where the wind will usually die down at dusk, it didn't!

If we hadn't been so darned cold, we might have found humor in the sight of humans wrapped in horse blankets to ward off the wind.
None of this kept the "show from going on," however. Numbers were down slightly, but the quality was high, as always. And you should be able to see a full list of show results on the club's website at www.wcaha.org in the very near future.
One note and a thank you from an exhibitor: During the show, a Western Carolinas young rider from North Carolina took a tumble off her horse in the warm-up area. EMTs and an ambulance were called to assist her. She has emailed our club secretary and asked that the following be sent to our membership and show staff. Here it is… (and I know that at one point, Maggie was wrapped in a Western Carolinas horse cooler to keep her warm while she waited…)

I just wanted to thank you so much for all your help during my fall on Saturday. As I'm sure you know, I am home from the hospital and resting comfortably. The surgery went fine, and the recovery will be long, but it will heal, and hopefully I'll be up and ready for nationals this year!

Everyone was so helpful that afternoon, and I have absolutely no idea who was there to my aid. Would there be any way that you could post something on the website or in the newsletter thanking everyone for me? They will never know how much I appreciate all the help.

Feel free to call if you need anything, and I will check my email about once daily.

Thanks Again,
Maggie Souders
Several reminders for WCAHA membership:
Final results on the All-Star Stallion Futurity Auction will be in next month's ArabianNews, but so far we are ahead of last year. (At March 15th writing.) Also, available on the club website.
You can now find show results and a full report of the club's minutes from the most recent Board Meeting on the club website at www.wcaha.org. .
If you haven't attended before, you might consider spectating at the Biltmore endurance ride May 3 in Asheville, NC. Our club hosts a waterbreak, with club members distributing bottled water and snacks to riders as they pass by. I helped out a couple of years ago, and the vista of horses, trailers and makeshift paddocks was a sight to see. In my opinion, it was probably as close to the "in your tent" aspect of Arabian ownership as I'm likely to see soon… Seriously, it's worth a drive to observe.
Finally, see elsewhere information about the upcoming Farm Visit at Dr. Ed Davidson's Southern Heritage Farm June 1st. We are planning a picnic, and an educational discussion of the changes in halter judging as a result of the implementation of the Halter Scorecard. Watch your emails! Info coming soon…

---
Sept. 2007 Newsletter [ click here ]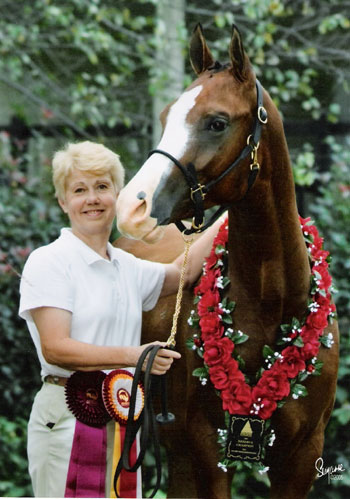 Membership Spotlight Elaine Sweet [ click here ]
Member Successes--Robin Staley [ click here ]
---
WCAHA Members Successful at Egyptian Event
Sleepy Tyme Gal and Anna Caroline Chinnes from the Region 15 Championships (pictured below)
This June, WCAHA members took horses to the Pyramid Society's Egyptian Event held at the Kentucky Horse Park in Lexington, KY. The Egyptian Event is the premier showcase for breeders of straight Egyptian and Egyptian sired Arabian horses. Besides a full array of halter and performance classes, the Event features a number of demonstrations, clinics, and lectures, as well as the Pyramid Challenge Endurance Ride.
Whitehaven Plantation's trainer Trisha Blackwell and working student Anna Caroline Chinnes showed WH Phanale (Blu Epic x Phateehah by *Orashan) to numerous Top 10 placings. Trisha and the 4-year-old straight Egyptian mare, owned by Martha Lucas, placed 9 th in World Class Mares, while 14-year-old AC showed her to 6 th place finishes in the highly competitive Amateur Halter Mares/ Novice Handler (21 horses) and Halter Mares JTH (14 mares). Not to be outdone by her baby sister, the lovely 6-year-old straight mare WH Carolina Blu placed 4 th out of 10 horses in Hunter Pleasure Open. This was Carolina's first time back in the show ring since last year's Event, and despite being four months pregnant she performed like a seasoned pro. The "Blu's Sisters" then joined together to represent their parents, placing 2 nd in Produce of Dam and 3 rd in the extremely large Get of Sire class.
On the final day of the Event, AC rode her own 8-year-old straight gelding WH Gibraltar (WH Bodacious x JKB Monietta by Theegyptianprince, bred by Whitehaven Plantation) in the 50 mile Pyramid Challenge Endurance Ride. Despite starting from behind, AC moved up the ranks to finish in 4 th place out of 28 starters and was the 1 st junior rider to cross the finish line. Gibraltar was the first Egyptian Arabian to finish, thereby repeating his win of the ceremonial saddle for 1 st Egyptian from last year's 25 mile ride. AC and G's win this year marks the 4 th time that a Whitehaven owned, bred, and/or trained horse has won the saddle (Trisha and the farm's Desert Sword won in 2002, while Gibraltar won it in 2004 with Rebecca Hayden and 2006 with AC—no other farm has yet to accomplish this) and the 3 rd time that a single horse has won it. In 2006 AC was the first junior to ever win this award in either the 25 mile or 50 mile distance, and this year marks the first time that a single horse and rider has won it in both distances.
Trisha and AC will next be traveling to Lexington, VA, to compete in the Shenandoah Valley I and II shows in preparation for this year's Sport Horse Nationals.
Rebecca Fulkerson, a WCAHA member, reports her successes at Region 12 earlier this summer. Her horse RA Manaloa and she were reserve champions in the PB Western Pleasure AAOTR 18-39. Manaloa recently went top five also at Region 15 in that same division and also top five with Carla Shiltz, of Rick Gault Training, in the Open Western Pleasure class. RA Manaloa also competed at Canada and will do so at the US Nationals with Carla and Fulkerson.
---
June 2007 Newsletter
Submitted by Carol Johnson
All kinds of things are wrapping up with an equal amount of things beginning. Here's a few.
Don't miss the June Member Spotlight on Janice Boswell & Shugak's 30th!
All-Star Stallion Futurity Auction ends
The All-Star Stallion Futurity Auction is over (assuming I won't receive a bid today, which is the last day, May 15th). This year's auction is the most successful in the program's history. More than $20,000 has been raised from bids from across the nation, and every penny after expenses will be returned to the winners of weanling and yearling Futurity classes at Western Carolinas''Fall Show at Clemson, Nov. 2-4, 2007.
Sharing the Wonder - Thirty years of magic
Shugak…elegant, impressive, incredible presence, unquestioned character.
These are the terms that describe our host - who was also the Equine of Honor - at his 30th Birthday Celebration.

In the absence of his owner, Janice Boswell of Jazzaron Arabians, Shugak greeted his guests, posed for pictures and made the event as special for everyone as Janice had always dreamed it would be. He brought life to her vision of celebrating their 30-year partnership even though she was unexpectedly unable to be present because of serious illness.

With approximately 50 guests attending, Shugak was the center of attention and conducted himself with such dignity and friendliness that he charmed each and every person and had greatly increased his circle of admirers by evening's end. [read more]
The Boswell Story
My mother used to tell me that "to have a friend, you have to BE one." If ever there is someone who lives her life by this philosophy, Janice Boswell is that someone—she's cultivated a circle of the very best of friends. When Boswell was unable to attend the long-awaited 30 th birthday party that she had been planning for weeks for her beloved stallion, Shugak, these friends stepped up and made it happen in her absence. But we get ahead of the story.

Boswell has owned and worked with Arabians since she was 16, developing an appreciation for their intelligence, and for the challenges they present during the training process. She worked with Lamar Fisher, an area trainer, to hone her skills, and as her abilities grew, she began to train for others. Among her first clients were Bonnie and Steve Page and their horse, Black Magic BG. (Incidentally, Boswell switched club affiliations to Western Carolinas because the Pages spoke so highly of its membership and activities.) [read more]
Region 12
Region 12 is over, with a successful Stallion Auction of its own, and quite a few WCAHA members and owners who had good rides. The following is an incomplete list of club member winners:

Jeanne Kowalczyk

Champion HA Hunter Pleasure 40 and over with Docs Finally
Aadancer

Jane Garrison

Top 5 Open HA Sport Horse Under Saddle with Docs Finally Aadancer

Kendra Erhlich

Top 5 PB Sport Horse under Saddle ATR with PF Scherazadda
(Congratulations, Kendra, on your first Regionals ride and win!)

Jane Garrison

Top 5 PB Sport Horse under Saddle with PF Scherazadda

Chloe Iversen

Reserve Champion Hunt Seat Medal Class, Not To Jump 13 & Under with TC Kharpe Diem

Connie Ross

Champion PB Sport Horse Under Saddle ATR with Rohara Eurofire+++/ (Mookie)
Also with Rohara Eurofire, PB Hunter Pleasure AAOTR 40 PB Sport Horse In Hand Geldings, Open: Top 5 PB Sport Horse In Hand Geldings, ATH: Top 5 With the additional halter points, Mookie has now earned his Legion of Supreme Merit in addition to his Legion of Supreme Honor he earned last fall, so now he is officially Rohara Eurofire +++/ !!!

Elaine Sweet

Champion HA/AA in the Sport Horse Under Saddle Futurity with ZP Helios Champion HA/AA Sport Horse U/S Jr. Horse, also with ZP Helios Reserve Champion HA/AA Sport Horse Geldings in Hand ATH, also with ZP Helios
Reserve Champion PB Arabian Sport Horse Show Hack. ATR with AM Romany Honor Top 5 USEF Third Level Dressage-Test 3- ATR with AM Romany Honor
Emily Cosgrove

Reserve Champion PB Country Pleasure, 14-17 JOTR with Heywired

Carey Cosgrove

Top 5, Walk-Trot Equitation with DA MI Matosk. Also, Reserve Champion Walk-Trot Country Pleasure with DA MI Matosk

Betsy Cosgrove

Top 5, H/A Hunter 40 and over with Helen Wheels. Also, Top 5, PB Country Pleasure 40 and over, with Heywired. Betsy writes that the whole family is thrilled at their successes at Regionals, and wish to thank Emily's doctors, therapists, and Carolyn Schroter for helping her prepare herself and her horse for Regionals while riding with "just one good arm." (Emily re-injured her shoulder last fall, and has undergone surgery to repair it.)

Robert and Kenna Burbeck

Partners in the Marhaabah Legacy on their stallion's Region 12 Reserve Champion Stallion. And congratulations to his manager, Chris Anckersen.

Becky Tolson's mare, HH Manno Chrome, was Top 5 in the HA Junior Horse Country English Pleasure with Vicki Humphrey up.
Region 12 Scholarship
Emily Cosgrove was named a unanimous winner of a Region 12 Scholarship for 2007. Emily, your fellow youth and adult club members are very proud of you and the work you do with junior riders.
---
December Newsletter - [click here]
Baywood Farm Story & Photo Gallery [click here]

Ed Davidson's Southern Heritage Farm Tour & Scorecard Clinic Article & Photo Gallery [click here]
Sandra Abe Story - [click here]
2007 December Newsletter - [click here]
2007 April Newsletter - [click here]
2007 January Lynn Kenelly Story - [click here]
2007 January Newsletter - [click here]