Dec. 2007 Newsletter
Submitted by Carol Johnson
This year's Western Carolinas' Class A show at Clemson was the most successful in recent memory, and the weather much nicer than last November. Total numbers were up—180 horses entered the show, with 175 actually showing. The breakdown is as follows:
21 Dressage horses - 57 rides (20 of these showed in other classes - 1 horse showed dressage only)
49 Halter horses (32 of these horses showed in other classes - 17 halter only)
44 Sport horses (34 of these horses showed in other classes - 10 sport horse only)
As Patti Rowe, club secretary notes, "The fact that most of these horses cross over into the other classes is what makes this show so successful."
Twenty-nine weanlings and yearlings showed in eight Futurity classes, with the largest class being yearling fillies, with eight presented. Of particular note, is the fact that there were 10 half-Arabians shown to judge Brian Murch—quite a large number compared to previous years' entries. (See elsewhere the list of winners and owners). To continue reading click here

Denni Mack, Monticello, GA, proudly accepts the Grace Greenlee special award for her half-Arab colt, Call Me Collect. "Collect" was the overall winning half-Arabian in the Futurity classes, as well as winner of the weanling Futurity colts class.
2007 Futurity Winners [ click here ]

T. Wayne Jones, Roanoke, VA, and WCAHA member, accepts the Reserve Champion Reds for the placing of his and Cindy's filly, Tsullivans Custommade, in the half-Arab weanling Futurity class at WCAHA's Clemson show in November 2007.
T. Wayne Jones Member Spotlight [ click here ]
Sept. 2007 Newsletter [ click here ]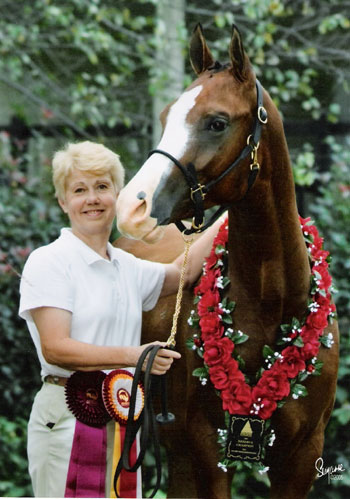 Membership Spotlight Elaine Sweet [ click here ]
Member Successes--Robin Staley [ click here ]
---
WCAHA Members Successful at Egyptian Event
Sleepy Tyme Gal and Anna Caroline Chinnes from the Region 15 Championships (pictured below)
This June, WCAHA members took horses to the Pyramid Society's Egyptian Event held at the Kentucky Horse Park in Lexington, KY. The Egyptian Event is the premier showcase for breeders of straight Egyptian and Egyptian sired Arabian horses. Besides a full array of halter and performance classes, the Event features a number of demonstrations, clinics, and lectures, as well as the Pyramid Challenge Endurance Ride.
Whitehaven Plantation's trainer Trisha Blackwell and working student Anna Caroline Chinnes showed WH Phanale (Blu Epic x Phateehah by *Orashan) to numerous Top 10 placings. Trisha and the 4-year-old straight Egyptian mare, owned by Martha Lucas, placed 9 th in World Class Mares, while 14-year-old AC showed her to 6 th place finishes in the highly competitive Amateur Halter Mares/ Novice Handler (21 horses) and Halter Mares JTH (14 mares). Not to be outdone by her baby sister, the lovely 6-year-old straight mare WH Carolina Blu placed 4 th out of 10 horses in Hunter Pleasure Open. This was Carolina's first time back in the show ring since last year's Event, and despite being four months pregnant she performed like a seasoned pro. The "Blu's Sisters" then joined together to represent their parents, placing 2 nd in Produce of Dam and 3 rd in the extremely large Get of Sire class.
On the final day of the Event, AC rode her own 8-year-old straight gelding WH Gibraltar (WH Bodacious x JKB Monietta by Theegyptianprince, bred by Whitehaven Plantation) in the 50 mile Pyramid Challenge Endurance Ride. Despite starting from behind, AC moved up the ranks to finish in 4 th place out of 28 starters and was the 1 st junior rider to cross the finish line. Gibraltar was the first Egyptian Arabian to finish, thereby repeating his win of the ceremonial saddle for 1 st Egyptian from last year's 25 mile ride. AC and G's win this year marks the 4 th time that a Whitehaven owned, bred, and/or trained horse has won the saddle (Trisha and the farm's Desert Sword won in 2002, while Gibraltar won it in 2004 with Rebecca Hayden and 2006 with AC—no other farm has yet to accomplish this) and the 3 rd time that a single horse has won it. In 2006 AC was the first junior to ever win this award in either the 25 mile or 50 mile distance, and this year marks the first time that a single horse and rider has won it in both distances.
Trisha and AC will next be traveling to Lexington, VA, to compete in the Shenandoah Valley I and II shows in preparation for this year's Sport Horse Nationals.
Rebecca Fulkerson, a WCAHA member, reports her successes at Region 12 earlier this summer. Her horse RA Manaloa and she were reserve champions in the PB Western Pleasure AAOTR 18-39. Manaloa recently went top five also at Region 15 in that same division and also top five with Carla Shiltz, of Rick Gault Training, in the Open Western Pleasure class. RA Manaloa also competed at Canada and will do so at the US Nationals with Carla and Fulkerson.